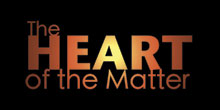 The Heart of the Matter – March 1, 2017
Many of us are looking forward to springtime. While some of you may be hoping for more snow, I am not. Only 19 more days until Spring!
Springtime is a season when all things come back to life. The grey skies of winter turn blue and the lifeless barren trees bud into new life. The golden brown grass turns vibrant green, robins begin to appear, and soon there are signs of new life everywhere.
Along with the Spring season, comes a season known as Lent. Lent is a period of 40 days, not counting Sundays, leading up to the celebration of Jesus' resurrection. It is quite common for those who observe Lent, to give something up or to deny themselves of something they enjoy during that time, such as chocolate or peanut butter.
Don't panic! I would like to suggest that Lent may be better observed as a season of self-discipline or a season of renewal where we give up our old less than spiritual habits and establish or reestablish new spiritual disciplines.
The Lenten Season is a perfect time to establish or reestablish self-disciplines that lead to renewal in our lives. It is an appropriate time for us to evaluate our priorities in light of God's Word. Perhaps it's a time for us to reprioritize our time by making daily time to be refreshed in God's Word and in prayer. Maybe it's a time to seize every opportunity to gather with other believers for worship, the study of God's Word, and for fellowship. Perhaps it is an appropriate time for us to give up some of our time to serve the needs of others.
The Bible says, "Therefore, if anyone is in Christ, he is a new creation. The old has passed away; behold, the new has come." (2 Corinthians 5:17 ESV)
Make these next 40 days a season of renewal. Let's allow God to transform our lives and to make all things new in our hearts. As we do, our hearts will be renewed and we, like the signs of spring, will show signs of vibrant new life.
And that's the heart of the matter.